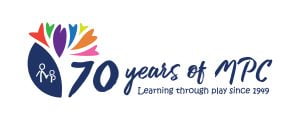 MPC would like to invite all past students, families and staff to come along and join in the festivities on Saturday 7th September between 10am and 2pm to celebrate our 70 years of providing Early Childhood Education on this site at Mitchelton.
Stay tuned for regular updates on activities and events!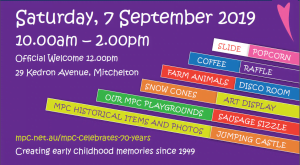 Tickets in our Giant Raffle are now available for purchase.  Over 40 prizes have been donated to MPC to celebrate this milestone.  All funds raised will be used to offset the costs of hosting this event with all rides and activities FREE!  Food and drinks will be available for purchase on the day.  Please support the businesses below who have donated to our raffle – Thank You!
PRIZE
 Approx. Value
DONATED BY
Website
Facebook
Sofitel Accommodation Voucher, inc. Breakfast and parking
 $     300.00
Sofitel, Brisbane
https://www.accorhotels.com/gb/hotel-5992-sofitel-brisbane-central
My Bike Shop, Mitchelton, Voucher
 $     300.00
Maher Electrical (Scott and Donna Maher)
http://www.maherelectrical.com.au/
3 month Platinum Gym Membership
 $     229.00
The Gap Health & Racquet Club
https://www.ghrc.com.au/
Australia Zoo Pass – 2 Adults & 3 Children
 $     189.00
MPC Grandparents/part sponsored by Aust Zoo
https://www.australiazoo.com.au 
https://www.facebook.com/AustraliaZoo
Artwork – 2 x Original Oil & Acrycic paintings
 $     180.00
Amanda Brooks
www.artbybrooks.com.au
Artwork – 2 x Original Paintings by Amanda Brooks
 $     145.00
Amanda Brooks
www.artbybrooks.com.au
Artwork – 2 x Original Printss by Amanda Brooks
 $     145.00
Amanda Brooks
www.artbybrooks.com.au
Bosch Fine Spray System kit
 $     105.00
Doyles Hardware
https://www.homehardware.com.au/store/mitchelton/
Forte School of Music – 5 free lessons
 $     100.00
Forte School of Music, Stafford
https://fortemusic.com.au/    
https://www.facebook.com/ForteSchoolofMusic
Blue Tooth Speaker
 $     100.00
Brighter Ideas
https://www.brighterideas.com.au/
Handmade quilt
 $     100.00
Bec Walsh
Past MPC family
Car Camcorder
 $     100.00
Brighter Ideas
https://www.brighterideas.com.au/
Car Camcorder
 $     100.00
Brighter Ideas
https://www.brighterideas.com.au/
Action Camera
 $     100.00
Brighter Ideas
https://www.brighterideas.com.au/
Kids Music Beat Voucher $65 with children's activity
 $        70.00
Kids Music Beat
https://www.musicbeat.com.au
https://www.facebook.com/BoppinBabiesAus/
Hair salon voucher with Lindt chocolates
 $        70.00
Mitchelton Hair Design
https://www.facebook.com/Mitcheltonhairdesign/
7 day pass to My First Gym Enoggera & children's activity pack
 $        70.00
My First Gym, Enoggera
https://myfirstgym.com.au/enoggera/
https://www.facebook.com/myfirstgymaustralia/
7 day pass to My First Gym Enoggera & children's activity pack
 $        70.00
My First Gym, Enoggera
https://myfirstgym.com.au/enoggera/
https://www.facebook.com/myfirstgymaustralia/
7 day pass to My First Gym Enoggera & children's activity pack
 $        70.00
My First Gym, Enoggera
https://myfirstgym.com.au/enoggera/
https://www.facebook.com/myfirstgymaustralia/
7 day pass to My First Gym Enoggera & children's activity pack
 $        70.00
My First Gym, Enoggera
https://myfirstgym.com.au/enoggera/
https://www.facebook.com/myfirstgymaustralia/
7 day pass to My First Gym Enoggera & children's activity pack
 $        70.00
My First Gym, Enoggera
https://myfirstgym.com.au/enoggera/
https://www.facebook.com/myfirstgymaustralia/
7 day pass to My First Gym Enoggera & children's activity pack
 $        70.00
My First Gym, Enoggera
https://myfirstgym.com.au/enoggera/
https://www.facebook.com/myfirstgymaustralia/
7 day pass to My First Gym Enoggera & children's activity pack
 $        70.00
My First Gym, Enoggera
https://myfirstgym.com.au/enoggera/
https://www.facebook.com/myfirstgymaustralia/
7 day pass to My First Gym Enoggera & children's activity pack
 $        70.00
My First Gym, Enoggera
https://myfirstgym.com.au/enoggera/
https://www.facebook.com/myfirstgymaustralia/
Coles & Myer voucher $50 with drink bottle
 $        60.00
Guild Insurance
https://www.guildinsurance.com.au
Bunnings $50.00 Voucher & Coffee cup
 $        60.00
Bunnings, Keperra
https://www.bunnings.com.au
Cooley Health Massage voucher & essential oils
 $        60.00
Cooley Health
http://www.cooleyhealth.com.au/
Samford Patisserie $50.00 Voucher
 $        50.00
Samford Patisserie, Samford
https://www.facebook.com/samfordpatisserie/
Hobby Lane $40.00 Voucher with children's activity and drink bottle
 $        50.00
Hobby Lane, Mitchelton
https://www.facebook.com/hobbylanecafe/
Cool Body Gift voucher with Novel by Josephine Moon
 $        50.00
Cool Body & Josephine Moon
https://www.coolbodymassage.com/contact-1
https://m.facebook.com/coolbodymitcheltonbrisbane/
Cool Body Gift voucher with Novel by Josephine Moon
 $        50.00
Cool Body & Josephine Moon
https://josephinemoon.com/
https://www.facebook.com/JosephineMoonAuthor/
Cool Body voucher & essential oils
 $        50.00
Cool Body, Mitchelton
https://www.coolbodymassage.com/contact-1
Willow & Spoon Café voucher
 $        50.00
Willow & Spoon
https://www.willowandspoon.com.au/    
https://www.facebook.com/willowandspoon
Fruit and Veg Box
 $        50.00
Fruit & Deli Co Northlakes
http://thefruitanddelico.com.au/
https://www.facebook.com/thefruitanddelico.com.au/
Gift basket from Mark Furner MP's office – Emma-Kate
 $        50.00
Mark Furner,  Member for Ferny Grove
Nannykins Handmade Cloth Doll
 $        50.00
MPC Grandparent
Barrow Lane Voucher
 $        30.00
Barrowlan E
http://www.barrowlane.com.au/
Funkateers Pizza Voucher, Coffee cup and children's activity pack
 $        30.00
Funkateers Pizza
https://www.funkateers.com.au/   
https://www.facebook.com/funkteerspizzeria/
Funkateers Pizza Voucher and Bottle of Wine
 $        30.00
Funkateers Pizza & Cellebrations, Mitchelton
https://www.cellarbrations.com.au/bottle-shops/sa/blackwood
Funkateers Pizza Voucher and Bottle of Wine
 $        30.00
Funkateers Pizza & Cellebrations, Mitchelton
https://www.cellarbrations.com.au/bottle-shops/sa/blackwood
Funkateers Pizza Voucher and Bottle of Wine
 $        30.00
Funkateers Pizza & Cellebrations, Mitchelton
https://www.cellarbrations.com.au/bottle-shops/sa/blackwood
Scentsy clip-on buddy and Wax pack
 $        30.00
Melissa Johnson
https://scentsy.com/shop/c/4643/buddy-clips#
$30 Wish voucher and Chocolates
 $        35.00
Woolworths, Brookside
https://www.woolworths.com.au/