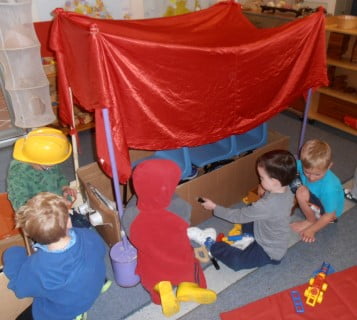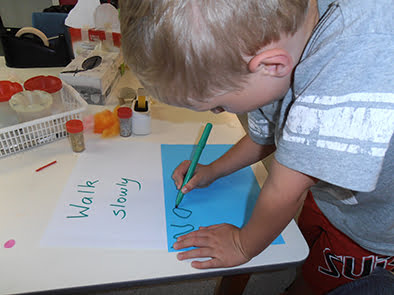 How does the Curriculum look in our day?
MPC implements the Queensland Kindergarten Learning Guidelines (Qklg) which is based on the same principles, practices and outcomes as Belonging, Being, Becoming: The Early Years Learning Framework for Australia

Our view of children underpins our philosophy, and impacts upon our curriculum decision making. Each child is valued as an individual with differing interests, abilities, strengths and needs. The curriculum is supported by current early childhood research which reinforces the importance of a sense of belonging. Children are seen as social learners and play is the most relevant means for learning. In our daily practice, the focus is on children as co-creators of the curriculum, co-owners and co-decision makers. Teachers strike a balance between their ideas and knowledge and those of the children. We encourage children and adults alike to think, act and express their individuality while developing an attitude of respect and caring for other people and the environment. Meaningful play, alongside other opportunities in the everyday routine, allows for such experiences. The significance of the present in children's lives is an integral part of our daily practice. We see everyday teaching as an opportunity to acknowledge the child now. We choose to make time to get to know who the child is, what his/her capabilities and interests are and celebrate these.
A key principle of both the curriculum and framework is the adoption of a holistic approach rather than being subject or content based. An experience which has rich potential for exploring maths concepts may also be valuable for art or physical wellbeing. While children are playing, they may be involved in a range of literate, musical and scientific investigations at the same time.
Children have opportunities to experience play in the natural environment, increasing their connection to the natural world. Understandings about sustainability and the importance of looking after the earth are increased through this connection. Our vision, everyday practices, reflections, day-to-day operations as well as current and future projects are all viewed through a green lens.
Daily Routine
The daily routine is flexible, responsive to the children and varies according to the length of the day, time of the year and current happenings, however each day usually includes the following:
Before Kindy Care from 7.00am (if required)
On arrival, children are welcomed to their group and may sit together.  This group time provides us with a time to say "hello" to one another, helps to establish a sense of "group", enables us to talk about the day ahead and share ideas.
All groups have inside and outside play.
Inside Play allows an opportunity for children to develop ideas for their make believe "games" and other play.  These experiences build understanding and relationships, encourage persistence, risk taking and incorporates language and literacy to communicate ideas. The games can remain in place for the following days demonstrating to children that their ideas are valued and allowing them to return to games and pursue them to a satisfying conclusion.
Morning tea and Lunch times (supplied by families) are important social experiences for young children. Independence is encouraged in managing food containers and making selections from their lunch boxes.
Music provides and encourages children an opportunity to express themselves and encourages singing, movement, imagination and story-telling. Through music children can learn about patterns, rhythm and structure without the complication of language and is usually thoroughly enjoyed by children and teachers alike.
Outside Play is particularly enjoyed by the children. Our centre is fortunate to enjoy many large shady trees and well established gardens. We have 2 playgrounds which include grassed areas, large covered sand pits, various climbing fort structures, swing areas, climbing walls, digging patches with water courses and a variety of areas for quiet play or exploration. Children love "visiting" the other playground and children from other units from time to time.  Many children enjoy watching the range of visiting wildlife including many varieties of birds, bees, lizards, frogs, insects and possums.
Transitions and Tidying/Packing away are also significant parts of the day.
Language/Storytime is a time to share books, and told stories, to listen as a member of a group and to share reflections.
Rest time is a an opportunity for the children to rest their bodies and minds. Quiet music or a story may be read during this time.
Afternoon activities (afternoon tea supplied by families, is included in this time for groups finishing after 3.00pm)
Parents arrive or children move to After Kindy Care (if required)
Why Play! Where's the Learning?
Play means different things to different people. Some play can be aimless, fun and amusing. It can also be a focused, highly engaging learning process.
At MPC, play is valued as a significant means for learning and allows opportunities for children and teachers together, to plan the curriculum (what happens in the day). Play can provide insights into children's interests, skills, beliefs, joys, what makes them laugh, anxieties and frustrations, how they learn, their intentions, how they represent their ideas, what they think, their skills, knowledge and dispositions. Allowing time for play enables children to develop their ideas, understandings and relationships, to persist, to take a risk, to make mistakes and try again.
Teachers and educators use their knowledge and understandings about early childhood frameworks, current research, theories of learning as well as their observations and interactions with children to support each child's growth, learning and development. We advocate for and promote the importance of allowing time and opportunity for children to be, play and feel a rich sense of belonging to their world. Play enables children a myriad of opportunities to learn, grow and become avid, ambitious and resilient learners.
Play creates a brain that has increased 'flexibility and improved potential for learning later in life.(Lester & Russell, 2008). http://www.earlychildhoodaustralia.org.au/our-publications/every-child-magazine/every-child-index/every-child-vol-16-3-2010/play-based-learning
Why do we play at kindy?  In play, children are:
Making connections and building relationships
Experiencing real life with all its ups an downs: building resilience and self-regulation
Able to control what they are doing and make decisions about their actions (have agency)
Intrinsically motivated: testing and exploring their own capabilities
Learning to be risk takers
Investigating, discovering, wondering
Engaging in pretend or 'as if'
Thinking creatively and flexibly, adjusting to change and solving proglems
Learning social skills, making choices, learning to negotiate and work collaboratively
Refining fine motor skills whilst making their designs, props and contraptions
Developing language skills (oral, literacy)
Representing their ideas in a variety of ways
Extending their scientific and mathematical knowledge and understandings about the world around them
Learning to question, request and share information
Understanding fairness, a caring attitude and a sense of empathy (thinking of self and others)
Gaining self-confidence: feeling that their ideas are valued
Learning about trust and respect
As teachers and educators the focus at any point in time may be as a listener, co-player, observer, analyser, facilitator, collaborator, inquirer, resource person, mediator, supporter and overseer.
Sustainability within the Kindy program
One of MPC's core tenets is sustainability.
As stated in our philosophy, one of the aims is to support children's exploration of the natural world and foster sustainable practices. Over the last few years we have actively sought to increase our understandings about children's play in the natural environment and connections between children's love of nature and desire to look after our world. Parents, children and staff have collaboratively undertaken a variety of projects to improve gardens, play spaces and sustainability practices and we continue to investigate possibilities.
Sustainable practices are embedded in our everyday routine. Children's understanding and knowledge about sustainability grow when they know why they're undertaking sustainable practice such as turning off the lights before going outside to play. Processes such as sorting the rubbish provide an opportunity to promote learning about what can be added to the worm farm or compost bin, what can be re-used at kindy and what needs to be added to landfill. Decisions about sustainability can often be complex and not clear-cut however we endeavour to use opportunities as they arise to highlight the impact of our chioces and what we can do to help look after our world.